4026-E N. Mesa (Centro El Rincon) El Paso,
Texas 79902 (Behind Como's Italian Restaurant)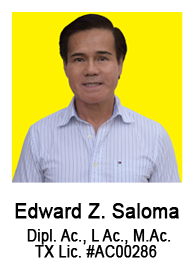 Edward is one of El Paso Texas'
respected acupuncturists.
He completed his course in Acupuncture Therapist Program at Northwest Institute of Acupuncture & Oriental Medicine at Seattle, Washington in 1993. Following that year, he earned his Master of Acupuncture degree with flying colors from the same institution. With the eagerness to create a special identity among any other acupuncturists, he took up other related courses such as Adult & Pediatric Tuina, Japanese Shiatsu, Therapeutic Massage, Nutrition & other supplemental training.
As a former Philippine Bantamweight Champion (1973-1974), this boxer knows how to maintain an athletic & healthy body. He presently helps some young aspiring boxers here in El Paso & in the Philippines as well.
Edward served the country for quite some time as an Army Nurse before his Acupuncture career. He Realized that the field of Medicine that he was in before only focuses on "Quick Fix" & "Temporary Relief." Medicines & drugs are their main arsenal to combat sickness while surgery is the easiest way to remove an abnormal growth in the body.
Combining all his knowledge, skills & powerful products like food supplements, herbs, awareness & proper use of our body, Edward affirms that we can recover from any kind of health problem. But above all, Edward believes that God made him an instrument to educate, heal & improve any person's well-being.
Oriental Acupuncture & Therapy Clinic Specializes In The Following
Asthma
Colds
Fever
Bronchitis
Pneumonia
Tuberculosis
Tonsilitis
Chicken Pox
Measles
Chronic Fatigue
Sciatica
Bell's Palsy
Joint Pains
Muscle Pains/Cramping
Sports Injuries
Carpal Tunnel Syndrome
High Blood/Low Blood Pressure
Diabetes
Blood-Related Problems
Live Cirrhosis
Hyper/Hypothyroidism
Pediatric/Adult Psychological Problems
Autism
Attention Deficit Disorder
Attention Deficit Hyperactivity Disorder
Post Traumatic Stress Disorder
Nervous Breakdown
Poor Concentration
Malnutrition
Insomnia
Immune System Deficiencies/Irregularities
System Lupus Erythematosus
Multiple Sclerosis
Organ Pains/Damage/Failure
Cysts
Tumors
Cancer
Side Effects From Chemo/Radiation
HIV/AIDS
Shingles
Substance Addiction
Cigarette/Nicotine Addiction
Food/Substance Cravings
Lack/Excessive Appetite
Weight Problems/Obesity
Premature Ageing
Male/Female Reproductive Problems
Hormonal Imbalance
Infertility
Menstrual Disorders
and more.
We Are The Official Master Center of Classique Herbs International

& CHIC El Paso, Texas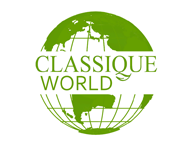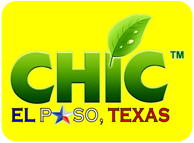 Making An Appointment
First Timer:
Setting up for an appointment is easy. Just give us a call within business hours or stop by the clinic. The receptionist will categorize your case & will give your appointment date & time depending on the availability of the provider.
Full Treatment:
For conditions that require intensive assessment & individualized health teaching. The client will be placed on the treatment table for a designated time frame (30-40 minutes) depending on the problem.
Quick-Fix:
For clients with minor problems wherein, there is no need to use the treatment table & the acupuncturist may only use 1-5 needles. (example shoulder, ankle, finger pains, ADD/ADHD, etc.)
Download & print out the ASSESSMENT FORMS from our website. Use a permanent ink pen & bring it during your appointment. You can also pick up the form from the clinic in case you have no computer access.
Come at least 15 minutes before your appointment except for 8:30 am & 1:30 pm clients. (just come on time)
Existing Client:
1. Follow STEP 1 only. Just come on time.
Important Reminders
Don't skip meals. Be sure to eat at least 1 to 2 hours prior to your treatment.
Wear comfortable, non-restricting clothes.
Respect Time. Failure to show up (10) minutes past your scheduled appointment is considered "no show" & the appointment may have to be cancelled or rescheduled depending on the availability of the provider.
If you are unable to keep your scheduled appointment time, please call 24-48 hours in advance to give way for other clients. We only see limited number of clients per day so we could provide individualized quality treatment.
For clients who have had three (3) consecutive missed appointments (without prior notice), the management has the right to charge for penalty, refuse or reschedule.